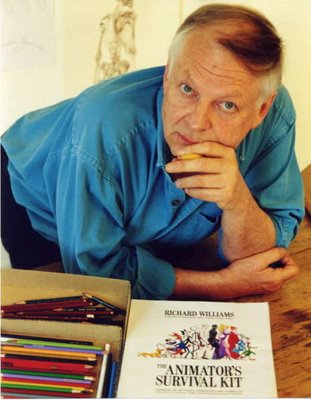 Richard Williams is a three-time Academy Award-winning animator best known for the feature films Who Framed Roger Rabbit and The Thief and the Cobbler, which was never completed. He is the author of The Animator's Survival Kit, a book considered the definitive text on how to animate, as well as the 16-DVD instructional course, The Animator's Survival Kit- Animated.
Full name: Richard Edmund Williams
Born: Toronto, Ontario, Canada 19 March 1933; emigrated to the United Kingdom, 1955; son of Kenneth D. C. and Kathleen (Bell) Williams.
Career: Worked for Disney and United Productions of America (UPA) in early 1950s; 1955—moved to England: first animated film, The Little Island, 1958; his own studio produced animated films, commercials, and special effects and titles for live-action films; 1992—forced to close studio during production of The Thief and the Cobbler.
Awards: Academy Award, for A Christmas Carol, 1971; Special Achievement Award and Visual Effects Academy Award, and two British Academy Awards, for Who Framed Roger Rabbit, 1988.
Films as Animator
Edit
1958

1961

1962

1964

1965

1966

1967

1968

1969

1970

1971

1977

1982

1988

1960s - 1992

2008

2010